Gasshuku with Kees & Wil Bruggink
Vienna (Austria)
During the weekend of 16th/17th of June the local Jodo group (VJK Ronin Wien) organised a Gasshuku with Kees & Wil Bruggink from the Harlem-dojo (NL). Jodo-renshisei outside of Vienna were also invited and we were happy to welcome some of our German and Czech friends.
Two days with 6 hours of training were scheduled. Both 2-hour morning sessions were dedicated to Ken and Jo Uchi-Komi, as well as Kihon Sotei. Kees provided us with a lot of details and gave fresh insight.
While putting the emphasis on the work-out, he rephrased many important points and formulated a very intensive session for beginners and advanced practitioners as well.
After the well-earned lunch-break we returned for 4 hours of Kata-Training. The greater part of Saturday was dedicated to Omote, enabling renshisei of all levels to continue to work together. After that we split up with Wil taking care of the Omote/Chudan-group and Kees leading a Kata-by-Kata-session with the well-attended Kage-group(9 people out of 18 participants).
Saturday ended with a public demonstration of Iaido and Jodo that enabled every renshisei to show her/his progression within the Ryu. We were happy that most of the participants chose to join our guests for a wonderful dinner in our favourite Japanese Restaurant.
Sunday afternoon enabled us to continue the work on Kage. I have the feeling that Kees was able to lead us to a better understanding of the underlying principles, by his explanations and most importantly his example.
Wil once more took competently care of the less advanced participants. She led the Omote/Chudan-group which nonetheless also had the chance to get some corrections and explanations by Kees. (I can only guess the number of kilometres he must have covered switching from group to group.)
The last one-and-a-half-hours of Sunday were put aside for Okuden and a very informative question-and-demonstration-session which Kees held for the Seiryukai-members. They were thankful for Wil's presence that enabled them to have Kees for themselves for this important work. While still providing the beginners with a good Keiko, she decided to end the Gashuku with an intense Ran-Ai-session for the intermediate renshisei.
All-to-soon the Gashuku drew to an end and left us reminiscing at a nice pub. Once more we would like to thank Wil and Kees for the very informative and intensive work, but most of all for their kindness and good humour. We were also grateful for the strong participation and the wonderful spirit of all renshisei. We hope to be able to welcome even more guests next time.
Finally, I want to thank all the people concerned with the smooth organisation, especially Brigitte, our group leader.
HW for VJK Ronin

The participants on Sunday morning (Patrik/CZ was only able to join on Saturday)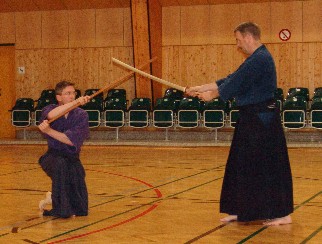 ---
---