Jodo Stage at Vienna with Wil and Kees Bruggink
November, 15th and 16th 2014
This year Kees Sensei proposed the theme "Sen and Hyoshi" - rhythm and initiative. How do we experience these concepts within our practice? How can we break the rhythm and take the initiative? And when is the right moment?
The information was passed on in practice, by demonstration and by direct training with the teacher. Background information has been made available before the stage and Kees was referring back to it on many occasions. In selected Kata from Omote, Kage and Okuden he pointed out instances were this shift in initiative is important. For me this gives greater awareness of the possibilities, makes the Kata more alive and leads to a deeper connection between Uchidachi and Shidachi.
We also spent a lot of time on Kihon and Uchi Komi. Here too, Kees Sensei demonstrated convincingly what works and what doesn't, trying to make us aware of some misconceptions in the basic exercises. Again there was little lecturing in front of the group. Instead we all had the opportunity to work with him directly, as he passed around giving corrections, answering questions or simply letting the practitioners feel and watch opposite of him. I greatly appreciate these occasions, since I'm convinced that direct training with an advanced teacher is the best way to progress. Questions are quickly answered this way and some problems that arise when we train with people of our own level are eliminated entirely.
As in the last years, we were happy to have Wil as a second teacher. She assisted by leading the less advanced group, concentrating on Chudan and Kenjutsu.
All-in-all we had 13 hours of training with a little more than 20 people from six different countries. The level of progression is steadily increasing each year. None-the-less we also had one person practicing Kihon almost the whole week-end. We ended the last training session with a common practice of Suigetsu. The training was intensive and a positive atmosphere reigned throughout the weekend. We thank our guests from near and far for joining us. Most of them come regularly and we are happy to have you with us and broaden the scope of practice.
We are very grateful to our teachers, who not only free up a week-end to come to us, but also spend quite some time with research and discussion in preparing the program.
We hope to see you again next year, ヘルガ (for the VJK Ronin Wien)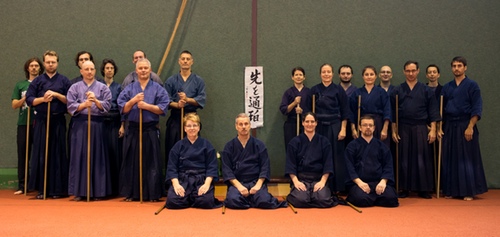 Two participants only joined for Saturday and are not present on the picture.
---
---